Essential Support for Musculoskeletal Health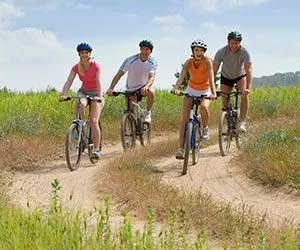 A healthy musculoskeletal system gives us the ability to move with ease and provides form, support, and stability to the body. Your patients who have occasional discomfort after strenuous physical activity may also experience an impact on mobility that limits independence and creates stress.
MediHerb and Standard Process offer a wide range of premium herbal and nutritional products to support all aspects of musculoskeletal health, from the maintenance of bone, muscle, and joint health to the support of these tissues through acute sports-related demands.
Supplements for Musculoskeletal Support
Supplements for Bone Support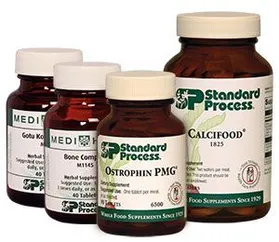 Promotes the normal development of bone and other connective tissue
Contains high-quality extracts of Gotu Kola, Grape Seed, and Ginkgo biloba with guaranteed levels of important components for optimal strength and quality
Combines synergistic nutrients with veal bone PMG™ extract for natural bone health support
Contains natural bone proteins and other organic factors that naturally occur in bone and are important for optimal bone health
Calcifood Powder or Calcifood (Wafers)
Helps the body build strong, healthy bones
Calcifood Powder contains 600 mg of calcium, and Calcifood (chewable wafers) contains 200 mg of calcium per serving
Adequate calcium as part of a healthful diet, along with physical activity, may reduce the risk of osteoporosis in later life.
Calcifood Powder can be mixed in a supplement shake or added to foods.
Research-Supported Supplements
Bone Health Daily Fundamentals
A convenient 30-day supply of individual packs containing Calcifood (chewable wafers), Ostrophin PMG, Cataplex D, and Cruciferous Complete
Read the research summary on how these supplements maintained bone-resorption rates.
Supplements for Joint Support
Contains a high-potency extract of Willow Bark standardized for its salicin content that has been proven to support musculoskeletal health in European clinical trials
Has been shown to support a healthy musculoskeletal system, especially the knees, hips, and lower back
Maintains healthy joints and promotes muscle tissue relaxation
Relieves exercise-related musculoskeletal discomfort
Supports tissue and joints to maintain connective tissue health, especially for long-term management
Nutritional compounds for support of proper formation and maintenance of skeletal tissues
Involved in maintenance of healthy fluid levels
Contains nutritional yeast for protein and B-complex vitamins to support the body's natural repair process
Combines Boswellia serrata with minerals and glucosamine to help maintain healthy joint function
Maintains healthy connective tissue
Supports joint health and the body's normal connective tissue repair process
Provides joint support to maintain an active lifestyle
Combines high-quality extracts of Boswellia, Turmeric, Celery Seed, and Ginger for optimal strength
Benefits the body's normal inflammation responses to strenuous exercise
Helps maintain the integrity of cartilage
Support for Strenuous-Exercise Discomfort
Combines high-quality extracts of Gotu Kola, Grape Seed, and Ginkgo biloba for optimal strength
Supports the body's normal tissue repair processes
Promotes normal connective and epithelial tissue development (particularly in times of increased physical stress)
Supports healthy blood vessels and natural drainage from the body tissues
Contains buckwheat, which supports the body's natural anti-inflammatory response as it relates to periodic challenges like strenuous exercise
Contains nutrients that provide acute ligament and muscle support
Supports the body's normal connective tissue repair and synthesis processes
Supports healthy joints and muscles
Supports bone growth and the synthesis of cartilage
Specially formulated by Kerry Bone to relieve nervous system discomfort
Promotes relaxation in the nervous system and muscles, relieves muscular cramping, and eases exercise-related muscle discomfort
Combines high-quality extracts of Corydalis, Jamaican Dogwood, and California Poppy, which contain many important compounds, including alkaloids, isoflavonoids, and other flavonoids, for optimal strength
Provides joint support to maintain an active lifestyle
Combines high-quality extracts of Boswellia, Turmeric, Celery Seed, and Ginger for optimal strength
Benefits the body's normal inflammation responses to strenuous exercise
Helps maintain the integrity of the cartilage
Supplements for Muscle Support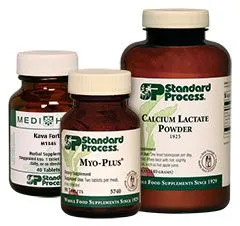 Supports muscular health and function
Provides support for increased oxygen demand during exercise
Provides ingredients with antioxidant activity
Contains 800 mg of calcium and 160 mg of magnesium per serving
Contains the proper balance of calcium and magnesium (5:1 ratio) to help with absorption of these two minerals
Supports muscle contraction and nerve conduction
Highly soluble calcium salt, more easily absorbed and easier to digest than calcium carbonate
Calcium from a nondairy source
Supports maintenance and function of cell membranes and membrane permeability
Supports and helps maintain healthy bone density and remodeling
Supports relief of muscular tension and effects of everyday stress
Contains water-extracted Kava with a full spectrum of active constituents, including the kavalactones
Standardized to provide 50 mg of kavalactones per tablet
Combines bovine muscle PMG™ extract and calcium
Supports the cardiovascular system
Provides mineral extracts that support cellular health