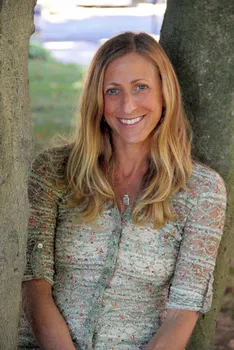 Dr. Flynn is the founder of the center. She is originally from Queens, NY and received her 4-year Bachelor of Arts degree from the University of Binghamton in upstate NY. After taking a long trip across the United States she settled in the small mountain town of Steamboat Springs, Colorado. It was there that she became aware of her interest in joining the chiropractic profession. After two years of chiropractic pre-requisites and eight years of skiing, hiking and biking she made the move to CT. After four years of intensive study, Dr. Flynn graduated suma cum laude from the University of Bridgeport to receive her Doctorate in Chiropractic. Dr. Flynn's interest in chiropractic began with her mother and grandmother. With a genetic predisposition to scoliosis, going to the chiropractor regularly was a family affair. Fortunately, she was always surrounded by healthy influences. Dr. Flynn credits her mother with 'being ahead of her time' and teaching the family healthy habits to last a lifetime. She has a passion for health and nutrition and believes it is her mission to educate adults and children the benefits of a healthy whole food diet. She is a firm believer in Standard Processes whole food nutritional products. Whether you choose chiropractic care for overall wellness or to alleviate an acute or chronic condition, Dr. Flynn's emphasis is on treating the individual, as a whole. By incorporating manipulation, soft tissues techniques, therapeutic exercises, nutritional counseling and stress management into her treatment plan she is able to provide well-rounded rehabilitation for her patients. Dr. Flynn prides herself in providing quality, hands-on, personalized care, along with paying special attention to detail. The office provides a warm and friendly atmosphere in which to help people regain and maintain a healthier life. Children are welcome and encouraged to join their parents. Teaching children early on about health and wellness instills good habits throughout their lives. A child's future health and wellness may depend on the ease of the mother's pregnancy and delivery. Dr. Flynn specializes in treating pregnant women and helps them achieve a more comfortable and enjoyable pregnancy and delivery. She is certified in the Webster Technique. By using a combination of the many techniques she has accumulated through school and years of post graduate training classes, Dr. Flynn is able to restore imbalances that could have occurred as a result of prior injuries, chronic poor posture, carrying children, heavy bags, playing sports, sitting at a desk/computer, improper shoes, driving, pregnancy, etc.. Our bodies can become imbalanced with restricted joints and when these joints become restricted, there is lack of blood flow and nutrition to the joint. These restricted movements can cause excessive wear and degeneration to begin. Chiropractic adjustments restore proper movement and bio mechanics to spinal, pelvis, extremity and skull joints. Along with manual work, Dr. Flynn also educates her patients on ergonomic solutions, stretches, posture strengthening, nutritional support and small lifestyle changes that go a long way to promote long term healthy bodies.
Background
Techniques - By combining many different techniques learned over the years Dr. Flynn is able to address the specific needs of each patient and balance their body and neurological function individually. Techniques and modalities used include:
*Diversified (full spine) Technique * Thompson Drop Technique * Flexion Distraction* Activator Technique * Sacral Occipital Technique * Nimmo Trigger Point Technique * Myofascial Release Technique * Infant-Adult Cranial Balancing * Chiro Yoga Therapy * Pre Natal Balancing (Webster Certified) * Pediatric Chiropractic * Cold Laser Therapy*Acupuncture*Diet and Nutrition*
Dr. Flynn continues to expand her knowledge by continuing her educations as frequently as she can. She just recently completed her 100 hour acupuncture certification and is looking forward to adding this into her chiropractic practice. Acupuncture is a truly holistic modality that helps to balance energy in the body to create balance. Acupuncture can be used for most any ailment and can aid in the healing of many musculoskeletal issues including low back pain, tennis elbow, headaches, migraines, sinus pain, anxiety, tendinitis and any muscle type of pain/spasm.

Dr. Flynn is also trained in Meridian Autonomic Nutritional Testing, which is a unique testing techniques based on acupuncture points located on the surface of the body. The testing is non-invasive. These points relate to systems, organs, and glands and help to determine nutritional requirements based Whole Food Nutrition and Herbal Concentrates. The program that you are preparing to embark upon is a bold and direct approach to significantly overhaul your body. By the end of the six to eight months you will have cleansed, repaired, and fortified almost every gland and organ in your body. This will result in the prevention of future health issues, including reducing the likelihood of experiencing some of the big problems like cancer, heart problems and diabetes. You will experience a degree of strengthening in your physical stamina and strength as well as your emotional/spiritual state of mind.
Common conditions treated include: allergies, headaches, heavy metal toxicities, fatigue, digestive disturbances, hormonal dysfunction, musculoskeletal and immune related problems.
Dr. Flynn is a member of the International Chiropractic Pediatric Association, American Chiropractic Association, CT Chiropractic Association and CT Chiropractic Council. She sits on the board of Naugatuck/Beacon Falls United Way and The Waterbury Chamber. Dr. Flynn resides in Naugatuck with her husband, daughter, and son.